APPROPRIATE PPE – WHILE OPERATING THIS EQUIPMENT
$9.58 – $52.64 ex GST
Multi-Condition PPE Signs APPROPRIATE PPE – WHILE OPERATING THIS EQUIPMENT
Description
This APPROPRIATE PPE – WHILE OPERATING THIS EQUIPMENT sign is available in a variety of sizes and materials.

Additional information
| | |
| --- | --- |
| Material | Corflute Sign, Metal Sign, Pack Of 5 Stickers, Poly Sign (Plastic), Vinyl Sticker (SAV) |
| Size | 450x300mm, 600x450mm, 120x80mm, 225x150mm, 300x200mm, 600x400mm, 900x600mm, 90x60mm |
Sign Materials
All signs are available in the following materials:
Vinyl Sticker – Heavy duty self adhesive sticker
Corflute – Corrugated plastic ideal for temporary use on building and construction sites and can be easily fixed to chain wire fences.
Poly (Plastic) – Comes with rounded corners and pre-drilled holes in each corner ready for mounting. Polypropylene is a UV stable 1.5mm thick plastic that is great for semi-permanent use outside in direct sunlight.
Metal (ColorBond) – 0.55mm thick sheet metal. All signs come with radius corners and 4 pre-drilled holes in each corner ready for mounting. Metals signs are heavy duty and great for permanent use inside and outside in all weather conditions. All signs are suitable for inside and outside use.
Viewing Distance and Size Guide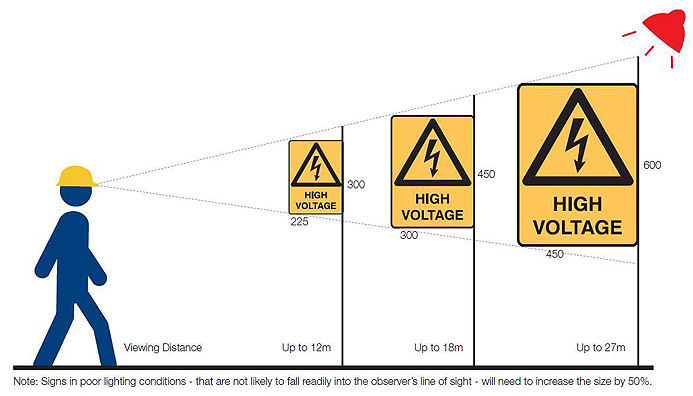 | | |
| --- | --- |
| Material | Corflute Sign, Metal Sign, Pack Of 5 Stickers, Poly Sign (Plastic), Vinyl Sticker (SAV) |
| Size | 450x300mm, 600x450mm, 120x80mm, 225x150mm, 300x200mm, 600x400mm, 900x600mm, 90x60mm |